CONTACTS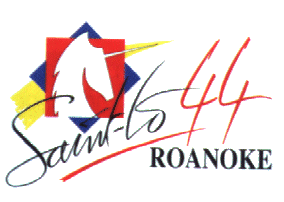 THE SAINT-LÔ 44-ROANOKE ASSOCIATION:

For the development of friendly bonds with the city of Roanoke (VA), U.S.A.
"The SAINT-LÔ 44-ROANOKE" Association was born the day after the famous commemoration of 1944 Liberation.
During the preparations of the celebrations indeed, our friend Bob Slaughter, a Twenty-niner living in Roanoke proposed for a twinning between his home town and Saint-Lô.
The emotional reaction during the ceremonies was such that the team in charge in Saint-Lô decided to follow up this idea, and to turn the organizing team into a twinning committee.
A twofold purpose is the guideline of this association:
-develop and increase the exchanges between the two cities, with a strong will for young people's
-carry on a warm and excellent welcome to veterans and particularly those who fought for the liberation of " Saint-Lô County ".
Two years after its birth, our association with a lot of new members has succeeded in setting up a very dynamic leading team, and giving proof that such a project was perfectly able to work out : it is supported by the population of Saint-Lô, many actions were launched , and there is no lack of projects.
The yearly operation budget is about $ 8,500. We have 80 members and about 150 sympathizers.
The action of the association is strongly supported by the city officials and the signing of the Twinning Chart will take place in 1998.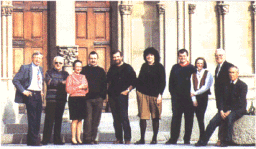 Chairman:
Richard CATHERINE
14, rue des Pigas
50000 Saint-Lô
France
The 29th FRENCH HISTORICAL ASSOCIATION proudly supports the "SAINT-LÔ 44-Roanoke".